Envato Elements ডাউনলোড সিরিজের আজকে 16 তম পর্ব। Envato Elements ডাউনলোড পর্ব চলবে আনলিমিটেড পর্ব পর্যন্ত । সুতরাং চিন্তা না করে ডাউনলোড করতে থাকুন আর শেয়ার করতে থাকুন । তাহলে চলুন শুর করা যাক। তার আগে জেনে নেওয়া যাক
Envato Elements কি?
Envato Elements হলো জনপ্রিয় একটি Tools শেয়ারিং সাইট । যেখানে Content Creator/Graphics Designer দের জন্য প্রয়োজনীয় Copyright Free Photos, Stock Videos, Music, Graphics Template সহ অন্যান্য সব টুলসের ভান্ডার রয়েছে ।
কিন্তু এটা প্রিমিয়াম ওয়েব সাইট তাই Subscription কিনে ইউজ করা লাগে। তাই অনেকে ইচ্ছা থাকা সত্ত্বেও ইউজ করতে পারেন না। যারা গত পর্ব মিস করেছেন তারা নিম্নের লিংক থেকে দেখে নিতে পারেন।
গতপর্বের পোস্টঃ
1. Hosbit – WHMCS & Hosting WordPress Theme
Hosbit is a new modern WordPress theme for VPN & Cloud Services websites. It is created for the individuals and companies who offer VPN, Cloud Services, VoIP, websites, mobile apps, or any other hosting-related services. Business includes data hosting, VPN renting, web hosting, domain listing, domain selling, domain parking, domain for sale, business hosting, cloud hosting, VPS hosting, etc.
FEATURES
+WordPress 5.0
Easy setup with Demo Content.
Unlimited Color Styles
Blog Single Page
Animate any Elements
Responsive layout
Retina Ready
Unique design
Single Page Project
Contact Form 7
jQuery Enhanced
Easy Setup
Very Clearly Documentation (Step by Step)
Support 24/7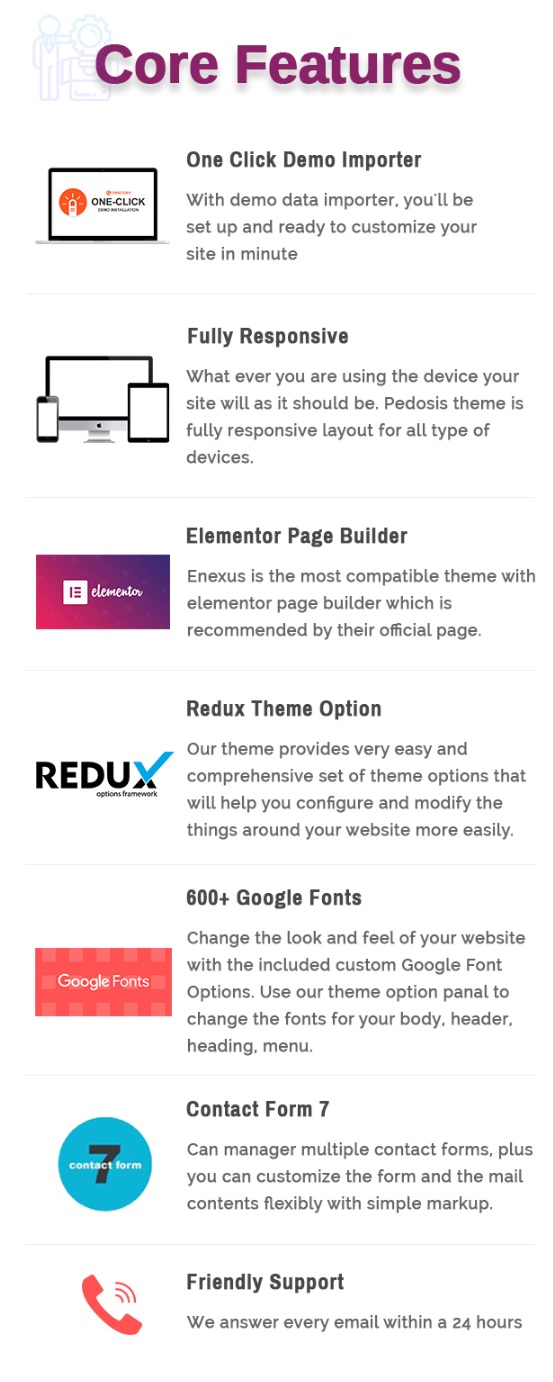 2. Hosty – Hosting Services Elementor Template Kit
Hosty – Modern Web Hosting Elementor Template. It is perfect for any unique hosting, domains and reseller business company and empresse all of your clients and competitors. Highly customizable sections with multiple elements to use for any company providing web hosting, reseller hosting, clouds hosting, domains, Email Hosting, WordPress hosting.

Main Features
1 Click Installation
Free Updates
24/7 Customer Support
Kit Includes:
Home 1 Template
Home 2 Template
About Us
Contact Us Page
Career Page
Pricing Page
Blog
Blog Single
FAQs Page
Header & Footer Templates
Elementor Pro upgrade is required for some templates and features (not included)
3. Hostlabs – Cloud Hosting Services Elementor Template Kit
Introduction
Hostlabs isis an Elementor Template Kit (not a WordPress theme!) for quickly and easily creating websites for your business using the Elementor Page Builder plugin for WordPress. This kit has been optimized for use with the free Hello Elementor theme but may be used with most themes that support Elementor. it has 10+ pre-built templates with elegant, simple, and modern design styles. Just drag and drop, no coding required.
Hostlabs – Templates
Pages
Home Page
About Page
Services Page
Team Page
Product Page
Testimonial Page
Pricing Page
Blog Page
Blog Single Page
Blog Archive
Contact Page
Error 404 Page
Sections
Header Section
Footer Section
About Section
Hero Section
Contact Section
Team Section
Offcanvas Section
Product Section
Testimonial Section
Hostlabs – Features
Elementor Pro is Required
21 Elementor Templates
Clean, Professional Design
Google Fonts – easily expand to 600 Google Fonts
and much more!
Required Plugins(included)
Elementor
ElementsKit Lite
Jeg Elementor Kit
4. Induxo – Industry WordPress Theme
Industrial WordPress Theme
Induxo is a clean and classy look business WP theme for Industry Services, Factory, Power, Petroleum, Gas, construction and manufacturing-related company website. The theme is a perfect niche item for company websites.
Theme Features
Full demo with One Click Installation
Gutenberg Optimize
Elementor Page Builder
Unyson Framework
Sticky Header
Live Customizer
4 Home Variations
4 Different Header Layout
WooCommerce Compatible
2 Services Layout
2 Project Layout
Multipage Design
HTML5 Validated
Based on Twitter Bootstrap 4
Responsive Theme
FontAwesome, Icofont icons
Contact Form 7
Google Web Fonts
Stylist Blog Page
Documentation
Easy to customize and user friendly
5. iZPAY – Mobile App & Fintech Startup Elementor Template Kit
iZPAY is a modern and responsive Mobile App & Fintech Startup Elementor Template Kit to create a professional-looking WordPress-based website for Fintech, Mobile Application & Software Landing Page, SaaS, Startup, and other related business. It uses a dark color scheme design with a 100% responsive layout, is retina-ready, and is very easy to customize because using Elementor so you don't need a single line of coding!
Features:
Using Free Plugins (Elementor Pro is not required)
Modern & Clean Design
16+ Ready to use templates
Fully Responsive Layout
Retina Ready
Fully Customizable
Cross-Browser Compatibility: Chrome, Firefox, Safari, Opera
Templates Include:
Home
Service
About Us
Team
Contact Us 1
Contact Us 2
Partner
Career
Pricing
FAQ
Blog
Single Blog
Header
Footer
Metform Contact Us
Global Theme Style
Required Plugin:
Elementor
ElementsKit Lite
metformin
Jeg Elementor Kit
6. Keylin – Blog & Magazine Elementor Template Kit
Keylin is the Blog/Magazine Elementor Template Kit, that perfectly fits any blogger's needs. Keylin's clean & balanced layout make it the best choice for bloggers. The Kit includes a lot of templates that are easy to edit.
Features
True no-code customization with drag and drop visual builder
Customize fonts and colors in one place or fine-tune on individual elements
Modern, professional design
Fast-loading
Works with most Elementor themes.
Kit Includes:
Home 1 Template
Home 2 Template
Home 3 Template
Header Template
Footer Template
Contact Page Template
Archive Author Template
Archive Category Template
Archive Search Template
404 Page Template
Off Canvas Menu Template
Single Post 1 Page Template
Single Post 2 Page Template
7. Kooki – Kindergarten Elementor Template Kit
Kooki – is a colorful, refined, and modern WordPress Template Kit for Kindergarten. It can be used for any children-oriented website. Kooki is a perfect Template for projects that strongly focus on handling children or related to kids and their growing activities.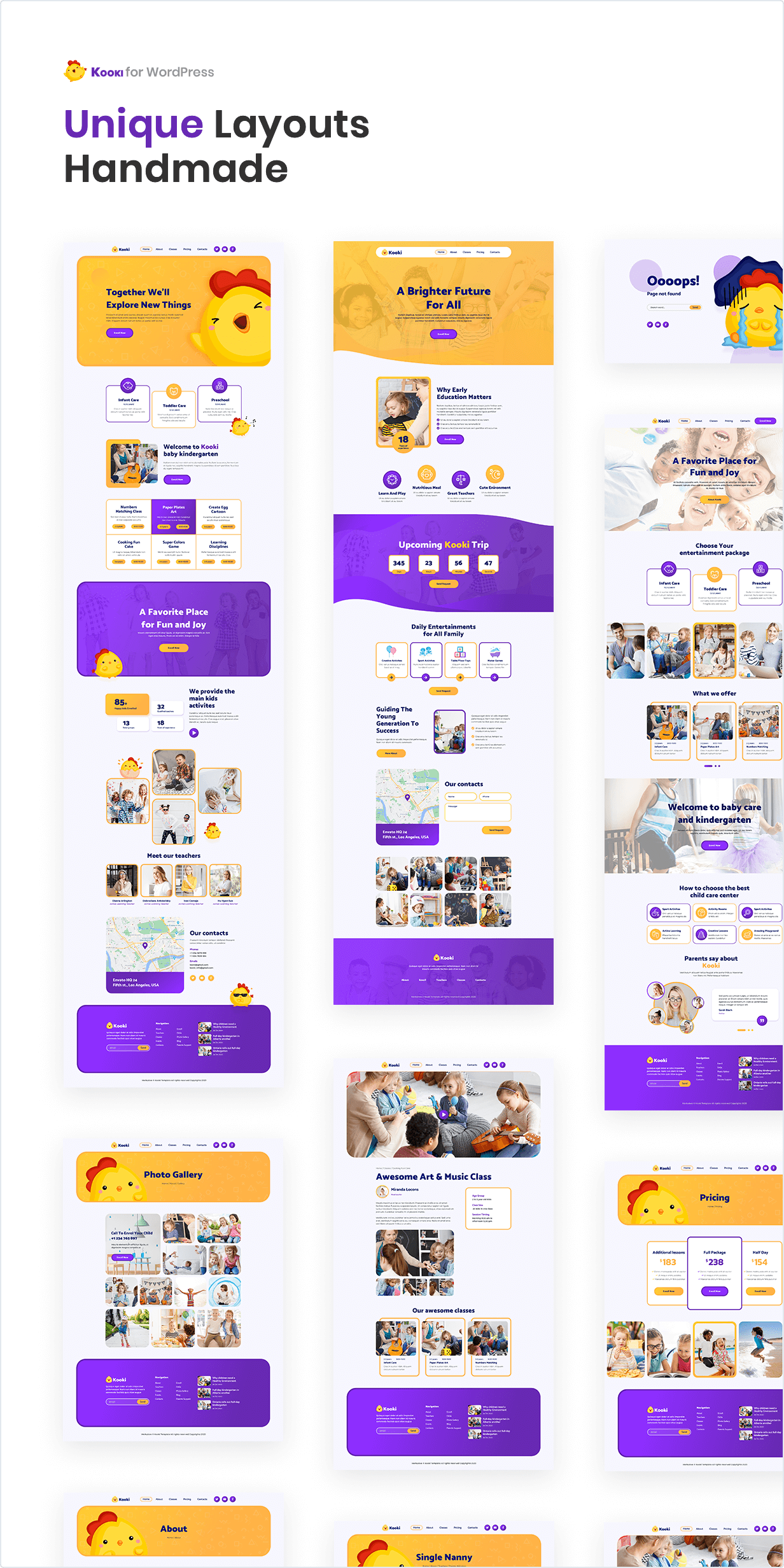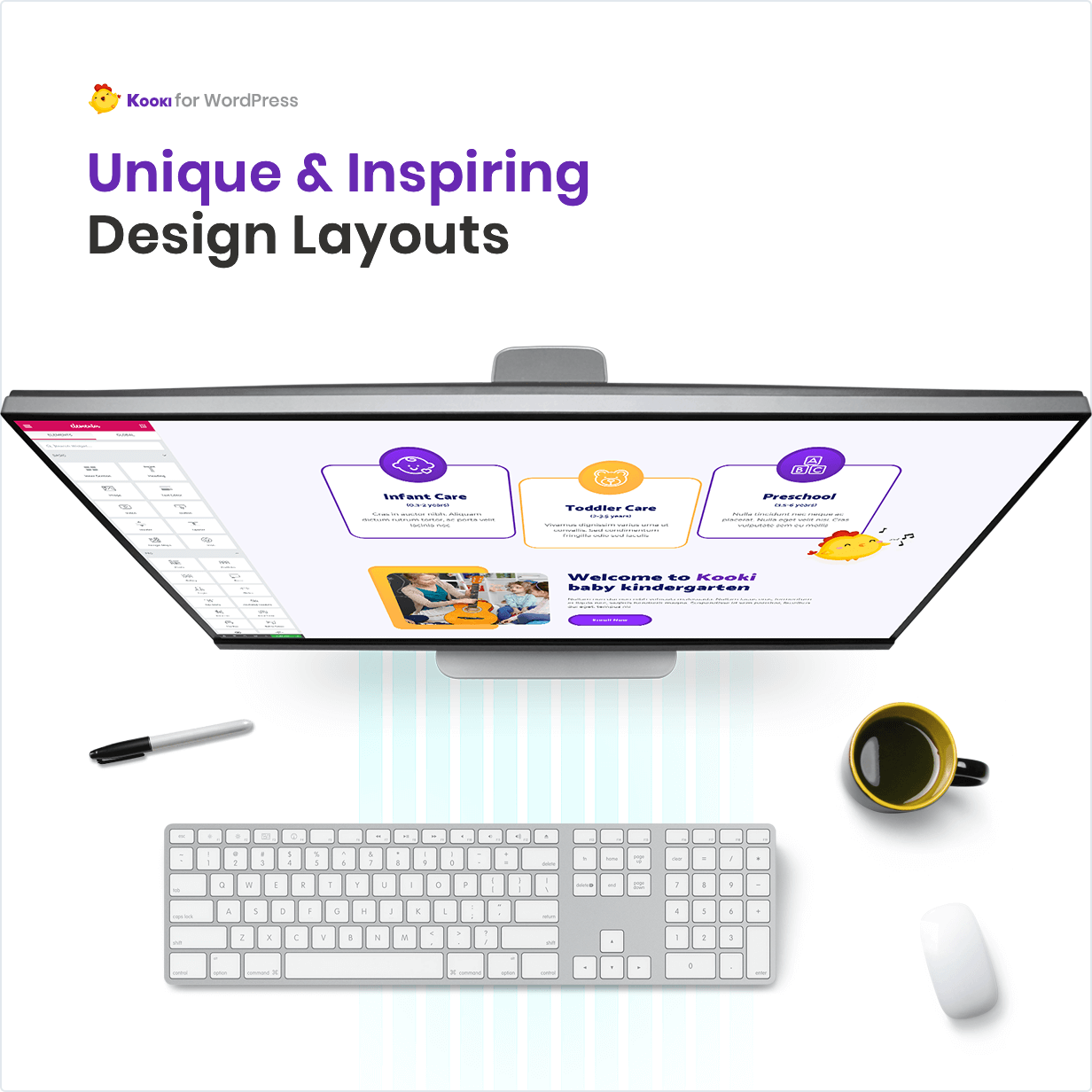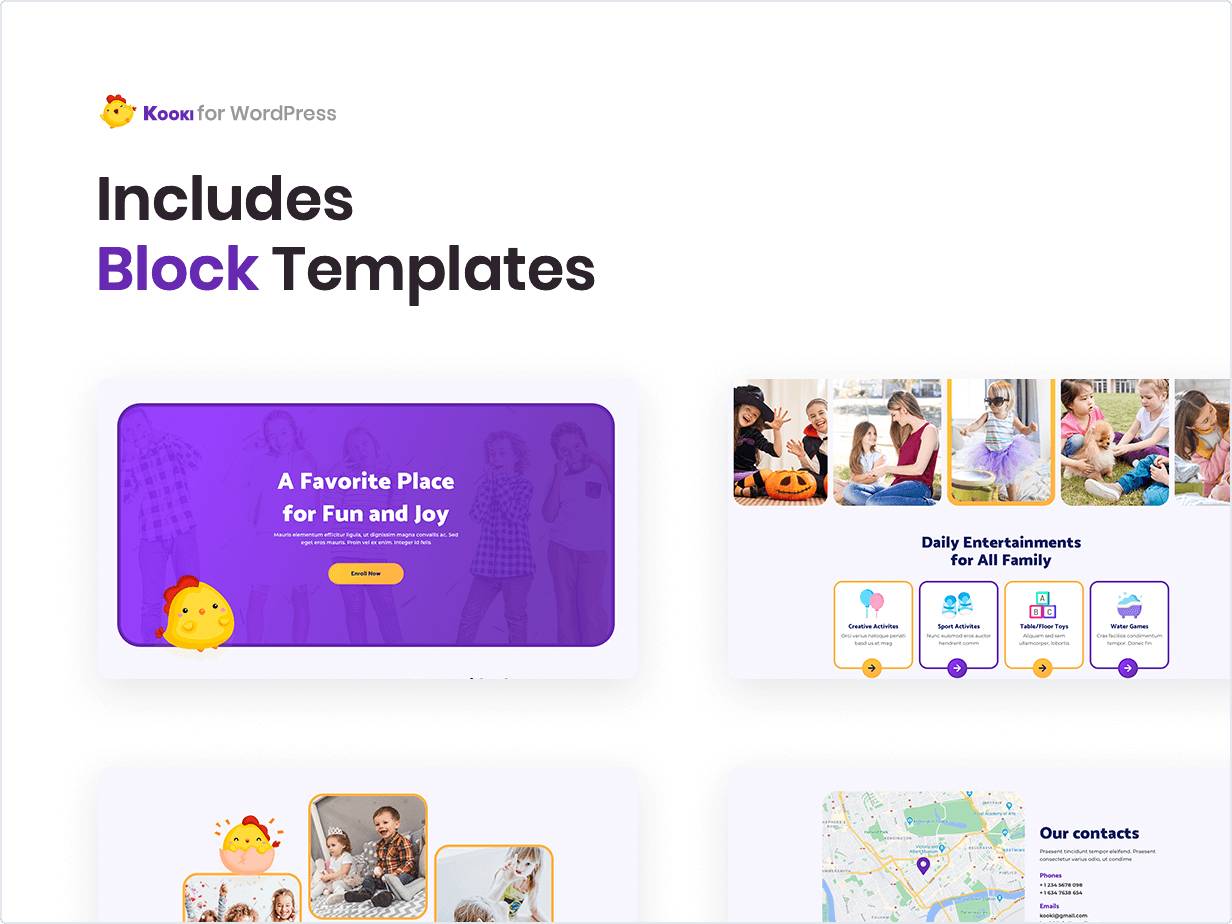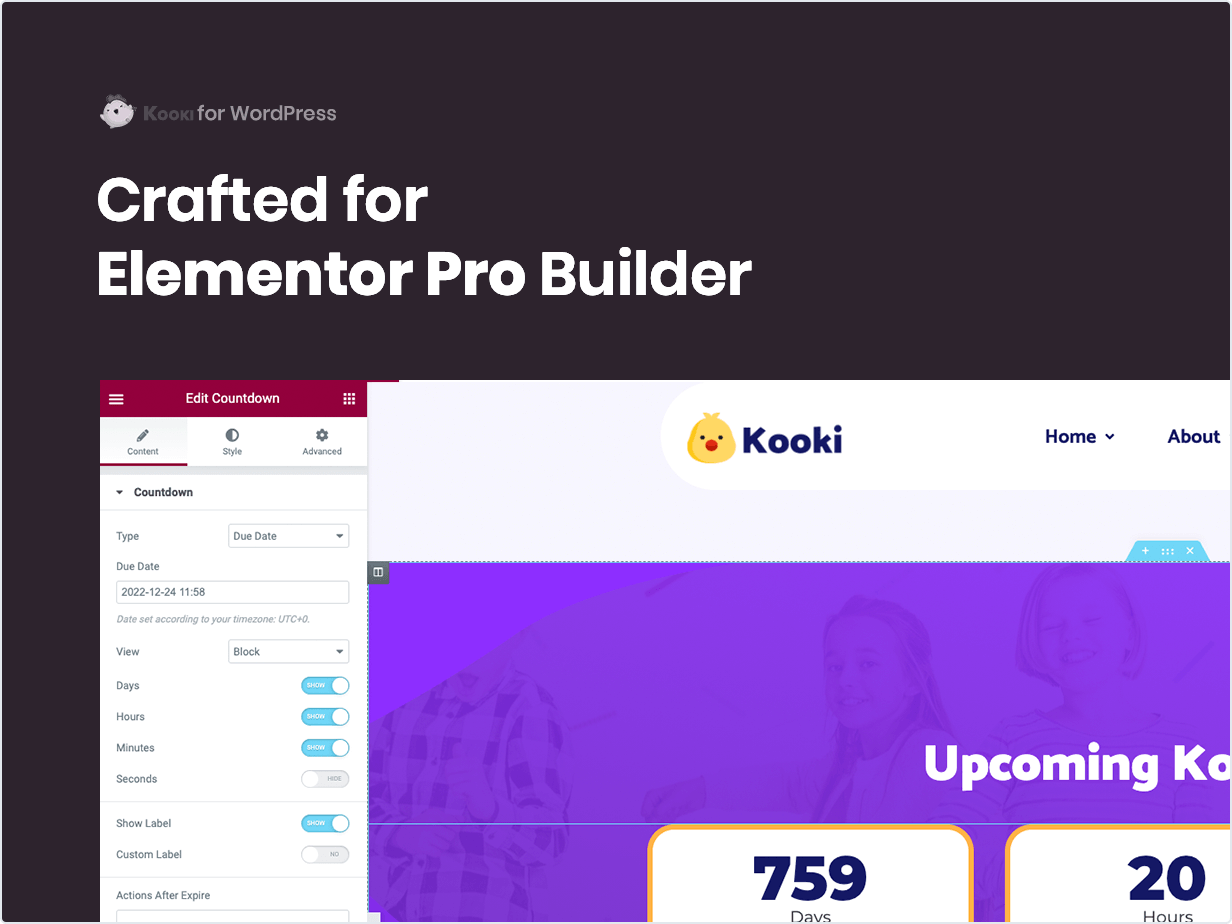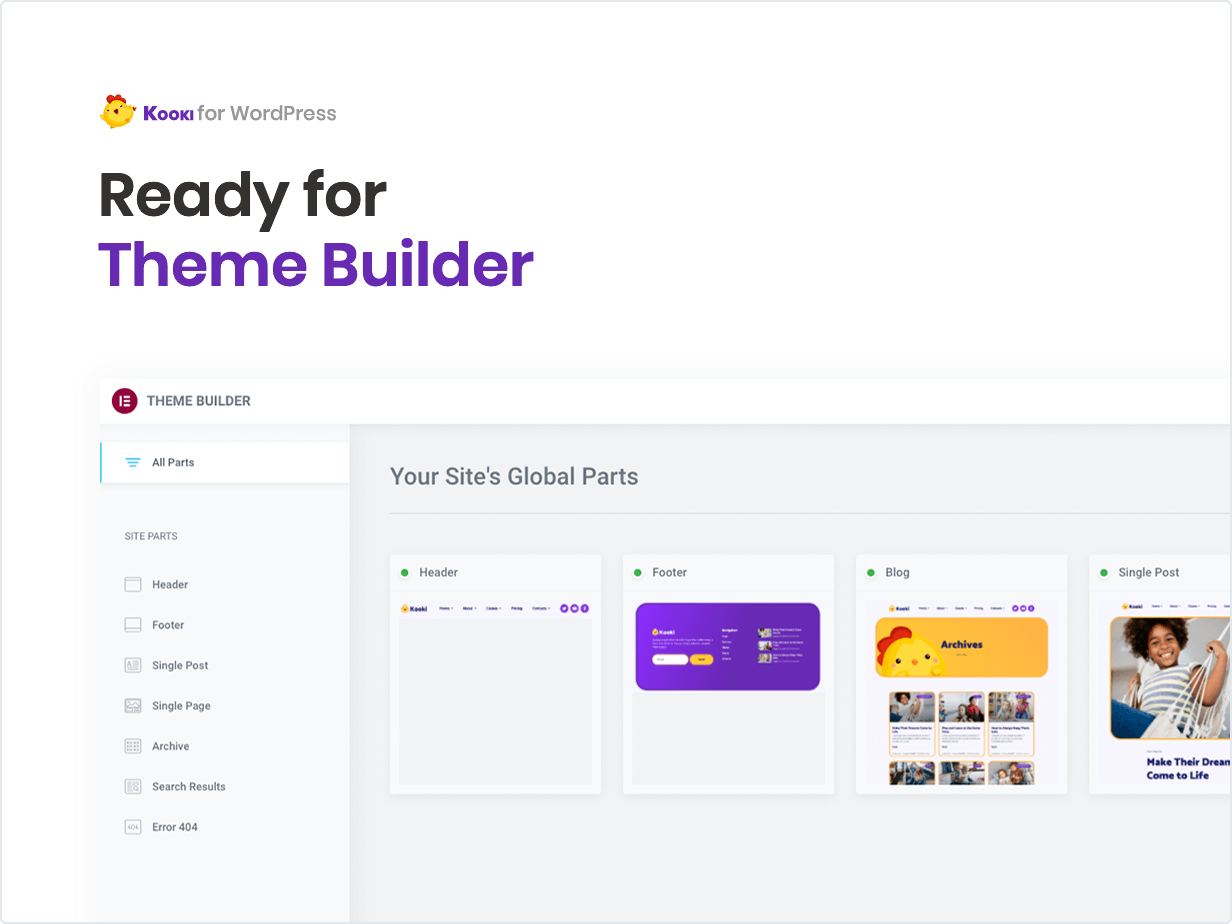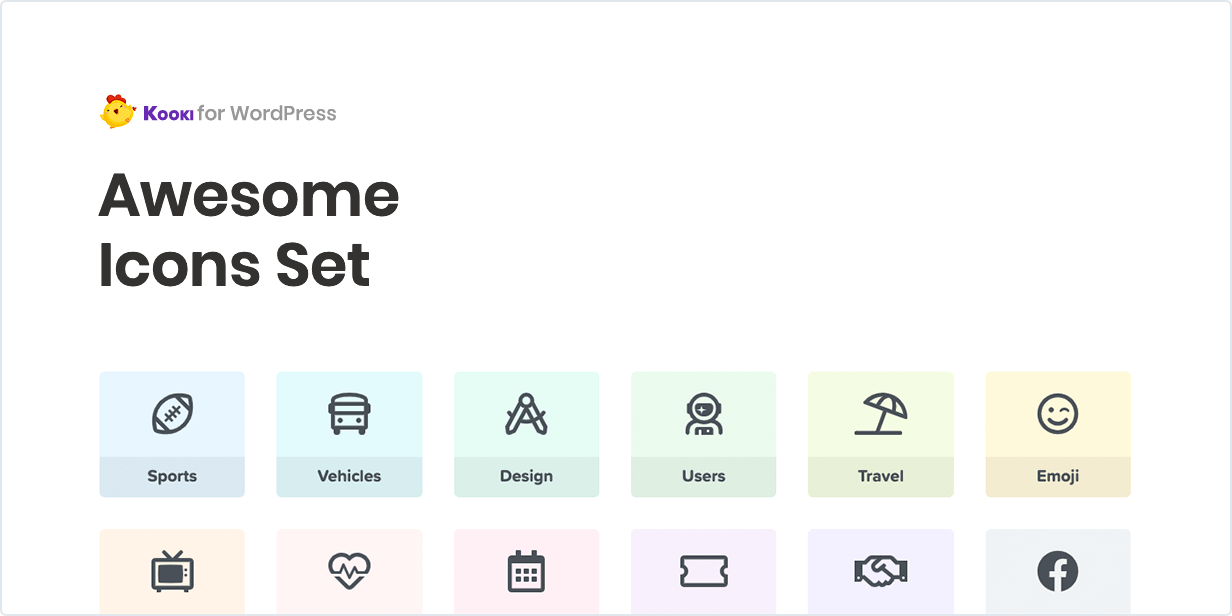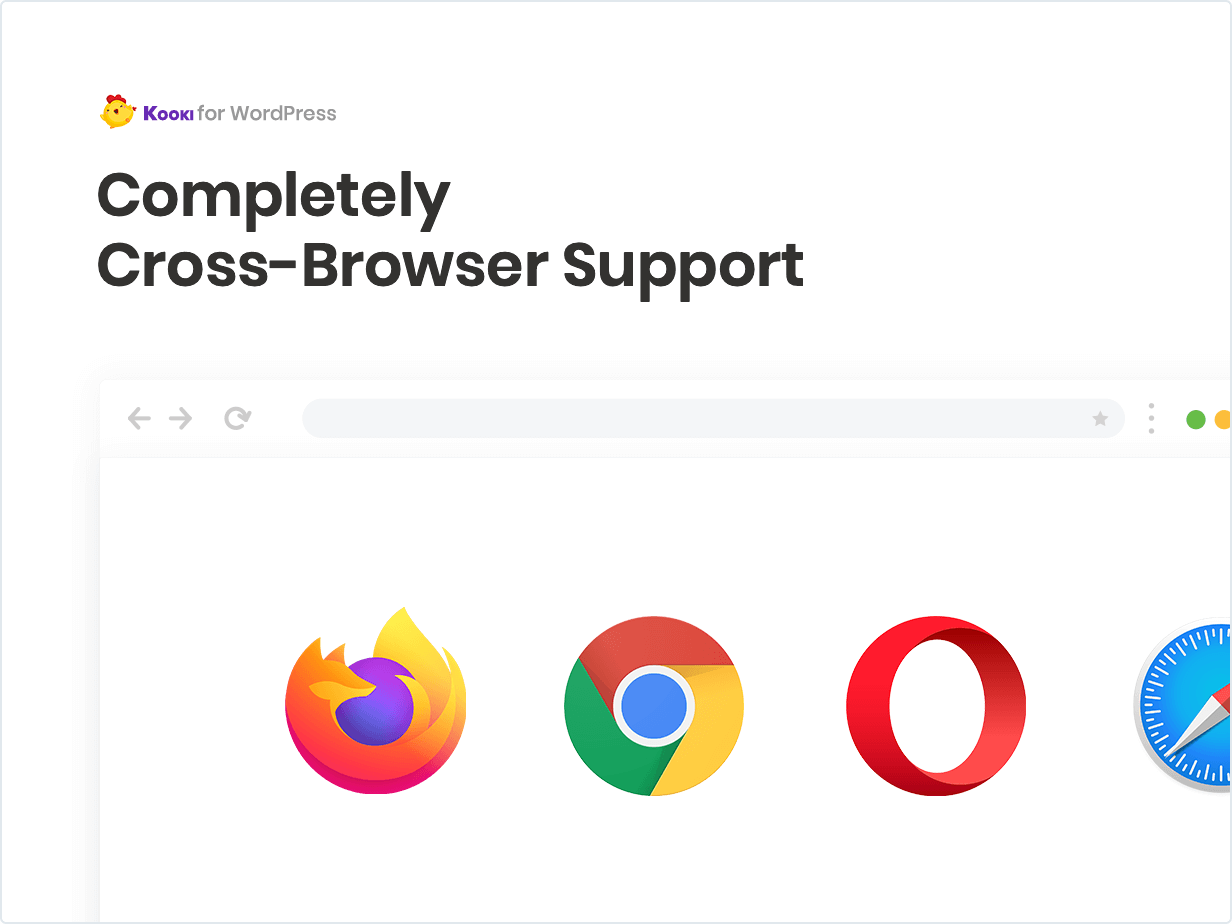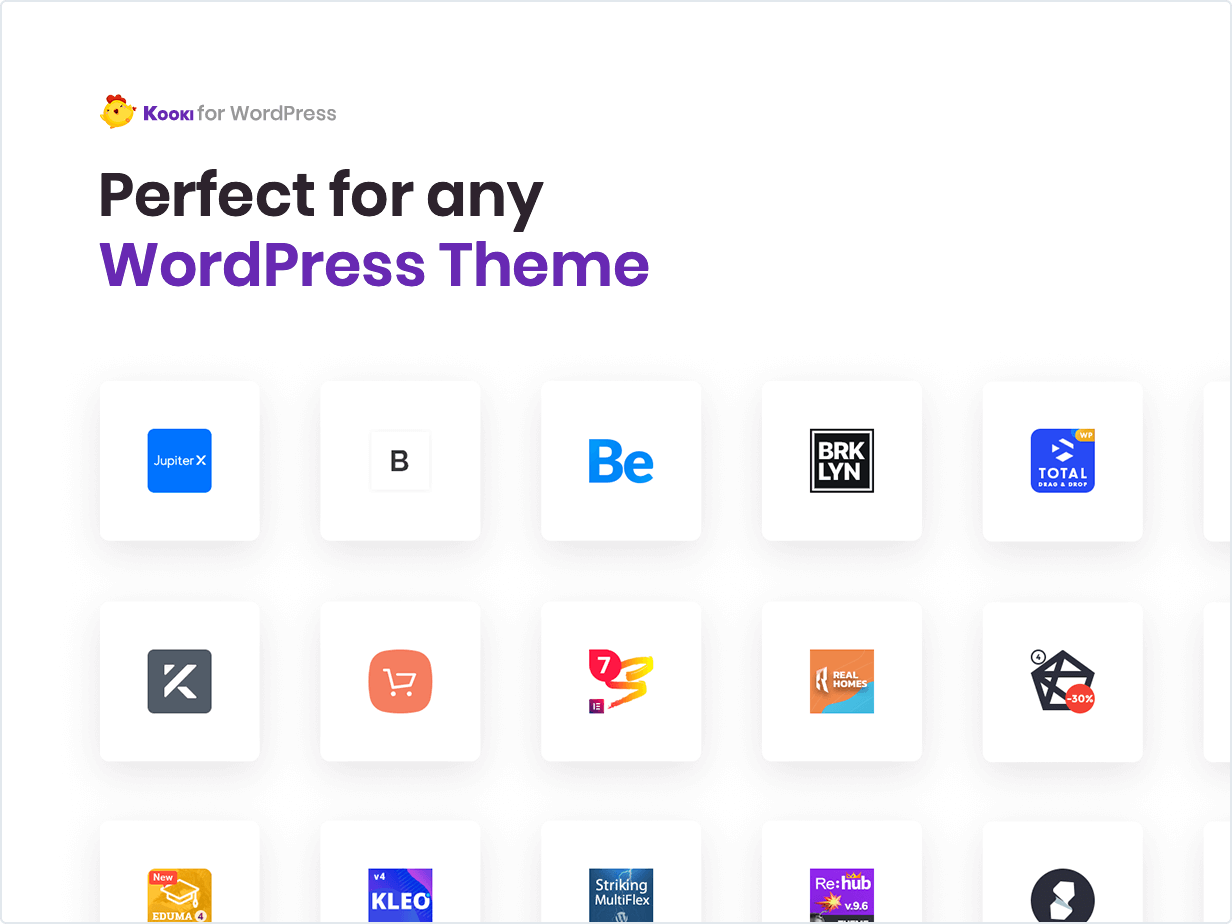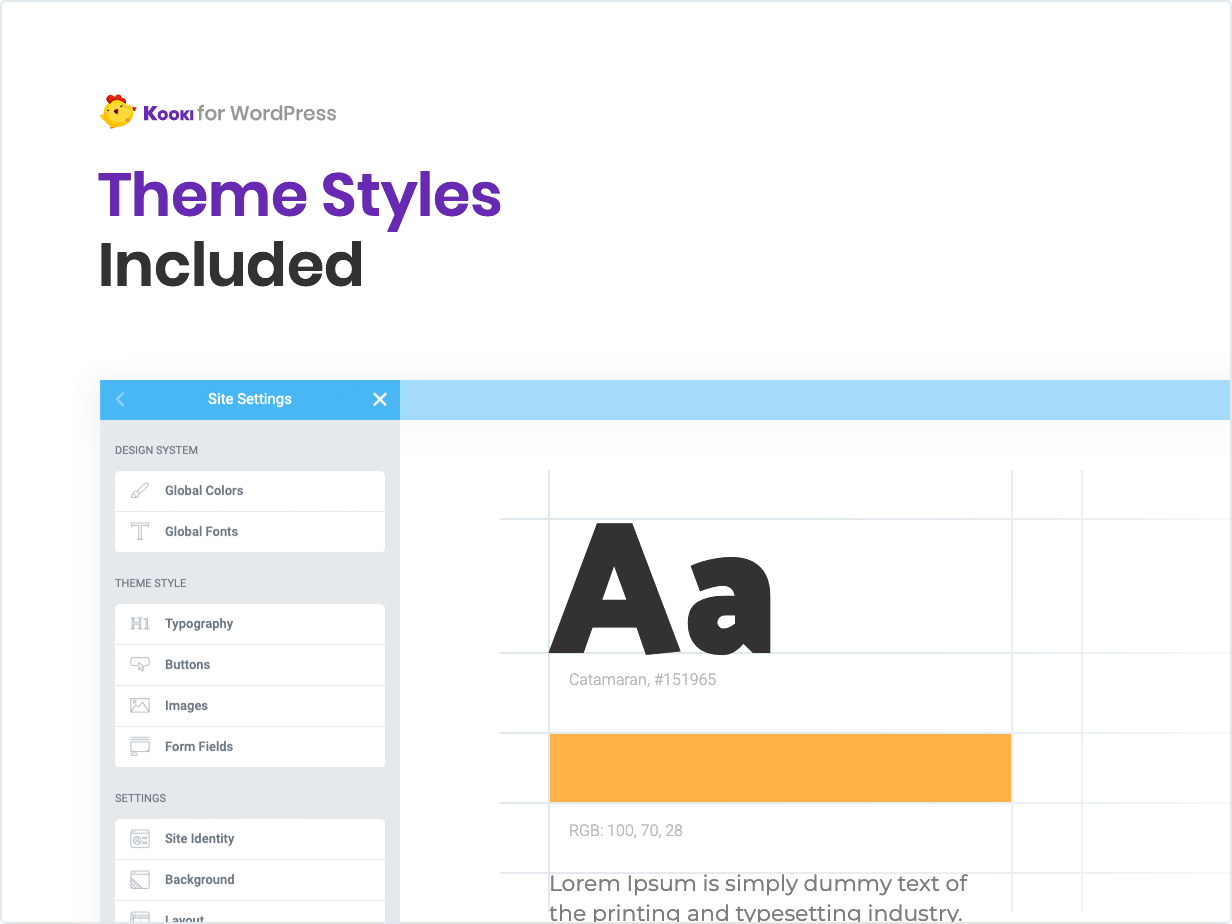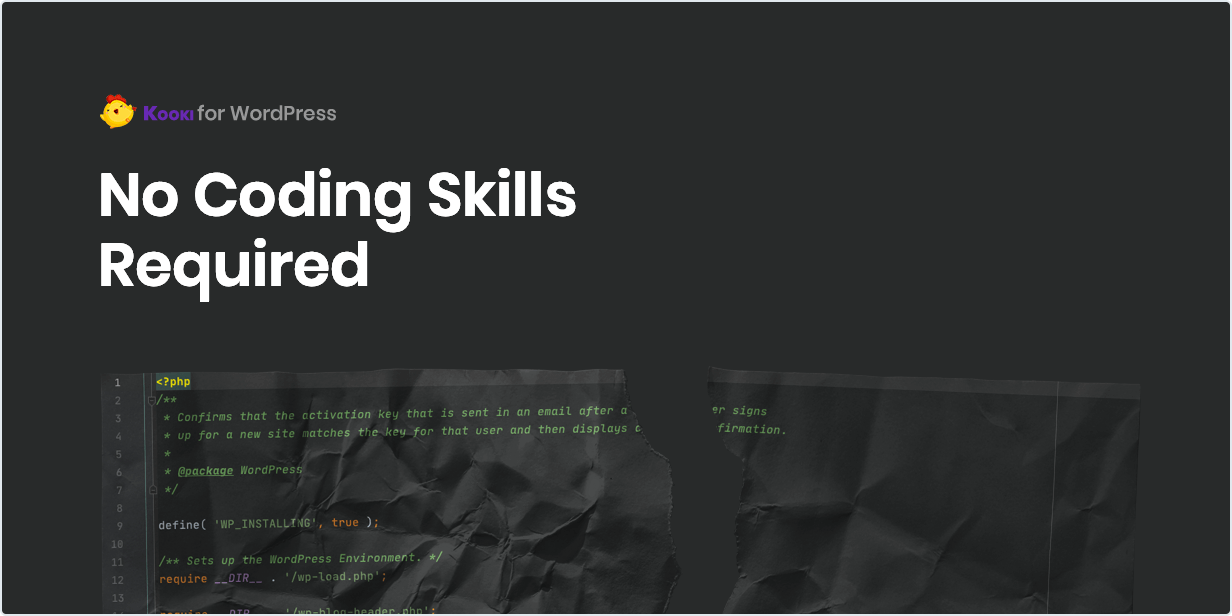 Pages and Layouts
Home
Home 2
Home 3
About Us
Pricing
Our Classes
Our Teachers
Single Nanny
Blog
Single Post
Events
Faqs
Contacts
Photo Gallery
404 Page
Sections
Header
Header V2 Section
Header V3 Section
Footer
Footer V2 Section
Footer V3 Section
Hero V1 Section
Hero V2 Section
Hero V3 Section
Testimonials Section
Testimonials V2 Section
About Kindergarten Section
About School Section
About Us Section
About Us V2 Section
Accordion Section
Activities Section
Banner Section
Benefits Section
Bread Crumbs Section

Call To Action Banner Section
Class Details
Classes V1 Section
Classes V2 Section
Contacts V1 Section
Contacts V2 Section
Contacts V3 Section
Contacts V4 Section
Countdown Section
Events Section
Gallery Section
Gallery V2 Section
Get In Touch
Groups Section
Kindergarten Features Section
Photo Gallery Section
Pricing Plans Section
Staff Section
Pop Up
Features of Kooki Template
Global Theme Styles included
75 Elementor Templates
Pixel Perfect Design
100% Fluid Responsive
Clean and Simple Style
Easy to Use and Customize
All major browsers supported Chrome, Firefox, Safari, Edge, Opera
Free Google Fonts Used
Icons Provided by Font Awesome 5 Pro
Tested in Color Blindness Simulator
100% SEO Friendly
Perfect for Elementor Pro
Quick, Dedicated and Professional Support
Design Meets the Requirements of WCAG 2
8. Landkit – Multipurpose Business WordPress Theme
Build a beautiful, modern website with flexible Elementor widgets built from scratch. Landkit is built to make your life easier. Variables, build tooling, documentation, and reusable blocks. Designed with the latest design trends in mind. Landkit feels modern, minimal, and beautiful.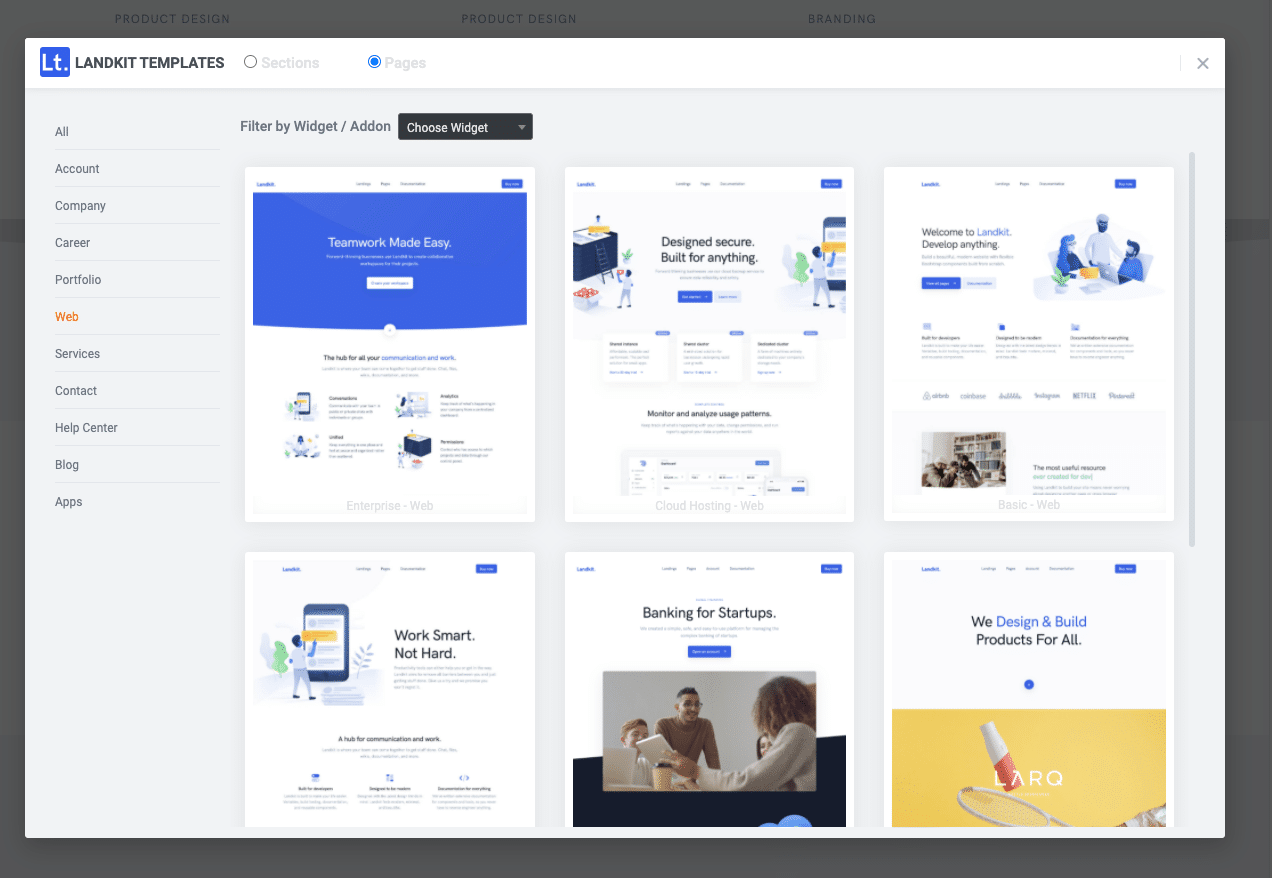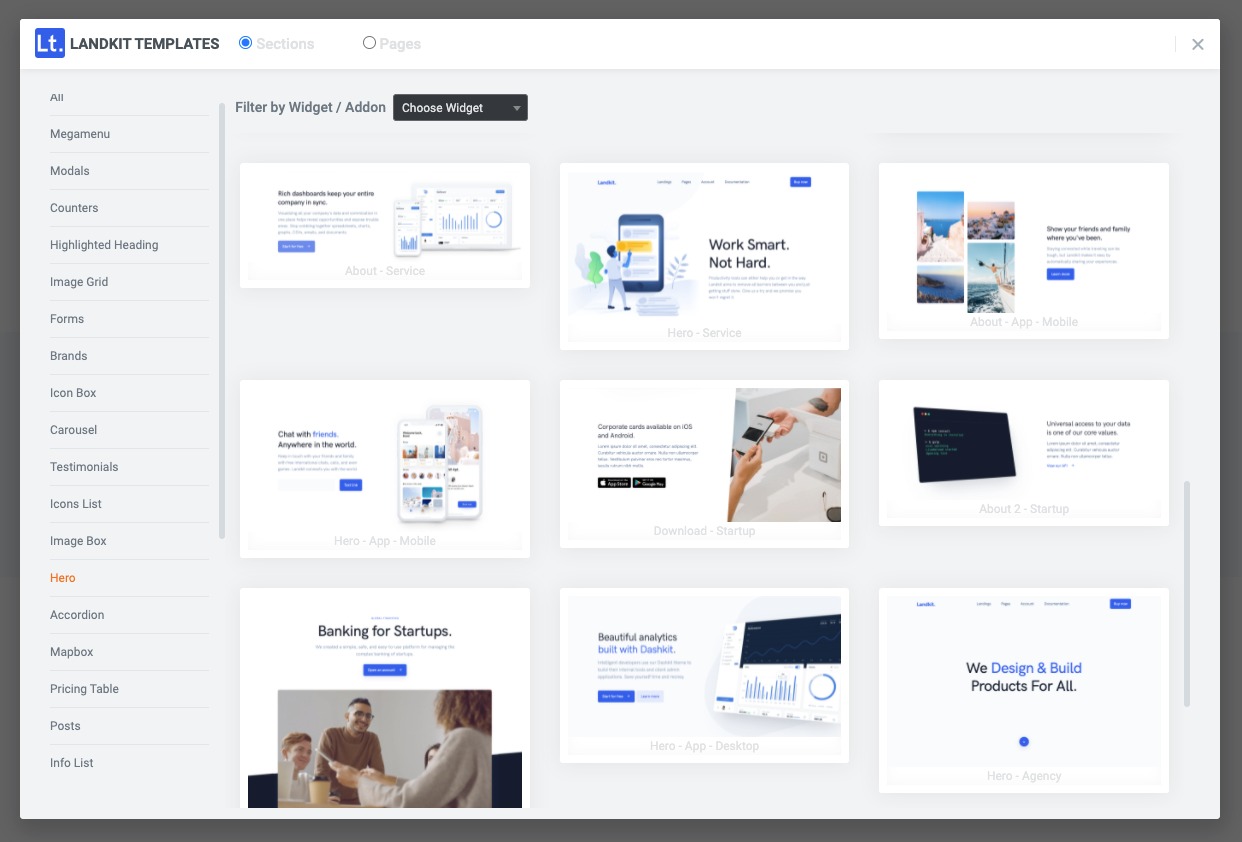 Now you can access all sections and pages available in Landkit through our Template Library. Just click on the "Landkit" icon and you'll have access to all our sections and pages.

Design Highlights
Beautiful, modern style flexible enough to suit most brands
Type styles, color styles, and components for easy file-wide changes
All images are included with a free-to-use license
Two included icon sets – one rich duotone set and one simpler set for utility
Included HK Grotesk Pro (premium font) with license for free extended use (Generously provided by the incredibly talented Alfredo Marco Pradil)
Interaction Highlights
We use modern libraries under active development and focus on making it incredibly easy to attach behavior to elements.
Megamenu Navigation: Native Bootstrap markup to create rich card-like dropdowns
Animate Elements: Rich, performant animations fired when an element is on screen
Parallax: GPU-accelerated scrolling parallax on backgrounds and DOM elements
Sliders: Beautiful slider options for testimonials, logos, inline galleries
Photo/Video Zoom: Beautiful image and video zoom that feel like elements are being lifted off the page
Typed Text: Automated type-and-delete text
Animated Counting: Animated count up/down to any number
Stylable Maps: Mapbox integration allows for customizable, beautiful maps
Smooth Scroll: Easily link to other parts of the page with a slick scroll
9. Lawone – Legal & Law Firm Elementor Template Kit
Lawone is a powerful and responsive element template kit for Lawyers. With the help of this elementor template kit, you can create a website for the Lawyers and Law Firm platform.
All Features :
10+ Elementor Templates
1 Click Installation
Lifetime Free Updates
24/7 Customer Support
Kit Includes :
Home
About
Case
Services
Team
Case Detail
Team Detail
Testimonial
Faq
News
Single-post
Archive
Contact us
Popups
Popups Team Detail
Header
Footer
Required Plugins :
This kit requires the Elementor Pro upgrade for some templates and features (not included)
10. Lower Third Black
Attributes
Length: 0:30
File Size: 37MB
Required Plugins: None required
Applications Supported: After Effects
প্রতিদিন আপডেট পেতে চাইলে আমার টেলিগ্রাম গ্রুপে জয়েন করতে পারেন। জয়েন করতে এখানে ক্লিক করুন । এগুলোই ছিলো আজকের মত। আরো অনেক থিম আছে, ইউটিউব অপেনার্স আছে, ইন্ট্রো আছে, আরো অনেক কিছু আছে । আগামীতে আপনার কোনটা লাগবে কমেন্টস করতে পারেন আমি আপলোড করে দেবো ।
ধন্যবাদ সবাই, আজকের মত বিদায় । আল্লাহ্‌ হাফেজ ।
Don't forget to connect me with all of my social media:
লিখেছেনঃ MH Mamun